File sharing with precise access control
.
Writkit is a cloud storage platform for effortlessly sharing files with others – publicly or with restrictions.
Try for free
Customise shareable links to only be accessible at certain dates and/or by certain contacts. Maintain secure control over who download your documents.
Why Writkit?
External file sharing with your clients in focus
.
Writkit is an easy-to-use and flexible file sharing platform designed to enhance the accessibility and presentation of your files for external users.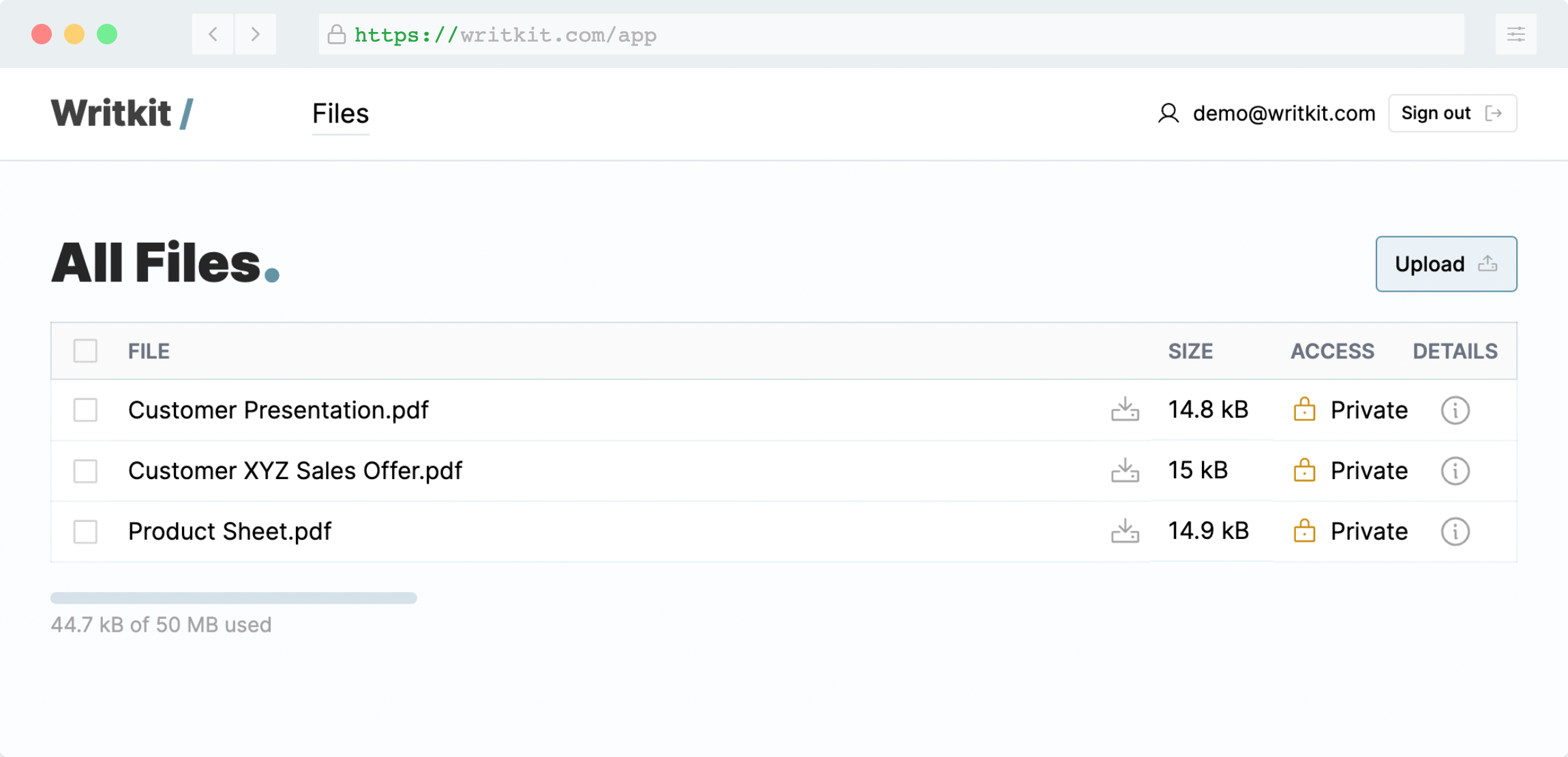 Restricted Access
Control who should be able to access your files, and when.
Writkit allows you to create unlimited number of file specific shareable links for you to share with your contacts however you please. Each shareable link can be configured with date validity restrictions to easily control when the link becames effective and expires.
To further control access you can specify which of your contacts that should be able to access the link. Following verification of their email address you have specified, access is granted. This mechanism means that there is no need to distribute passwords or trusting the recipient with not sharing the link excessively.
Public Access
For files you want to be publicly accessible, you are free to benefit from Writkit's simple but powerful file and version management system, to publish links to files for anyone to access.
For maximised worldwide availability and speed, public files are distributed over a Google powered CDN.
Customizable Links
Sharable links to files can be configured with the URL you prefer, making it easy to brand and personalize.
This opens up for branding the links to give the recipient a better understanding of the file, reflecting your or the recipients brand, or adapt to specific requirements, all to enhance your professional impression.
Writkit even allows you to use your own domain for even further customize the links.
File Management
Upload and manage your files through our intuitive interface.
Writkit offers built-in support for version management, allowing you and your team to replace existing files with links being persisted and not affected by the new version. This allows you to distribute a single link to a document, knowing that the recipient always access the latest version.
For maximised worldwide availability and speed, public files are distributed over a Google powered CDN. Files can be stored in the geographic location of your choice (US, EU or Asia) for regulatory reasons and/or optimised performance.
Collaborate
Invite your team members to your account to collaborate and share the same file and link management experience.
Writkit even allows you to join multiple teams, opening up opportunities to manage different accounts for different teams.
Pricing
Flexible plans for your needs
.
Whatever your needs, we can find the right plan that will fit your business perfectly.